Counter
Counter allows to count a discrete number of elements using the help of your iPhone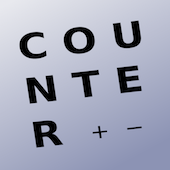 Counter does one thing and only one thing in the best possible way. It allows to count a discrete number of elements using the help of your iPhone to avoid any error, when having the right result is mandatory and your fingers are not enough.
Counter screenshots on iPhone - click image to zoom
Using Counter you can solve any kind of situation where you have to computer enumerate a total number of elements (physical of abstract) and you want to be sure the process will be error free.
You can add to the total a new unit simply pressing the +1 button on screen.
Counter will keep track of the counting as it progress and will add +1 to the total at button press.
You can optionally set to have Counter to ask confirmation for any element you add, and it gives you the possibility to have also a 'minus' button, to subtract also elements in case you need it too. You can also have a sound feedback to be sure the value was added (or subtracted)
Want to know more details about Counter?
For general purpose questions about our product can be also useful to visit the
Tension Software Generic FAQ
section.
Counter has also an macOS version. Visit our site to see it
To know what's new from the previous releases
CLICK HERE
Counter
Rel 1.0 (June 24, 2016) - 1.0 MB
Requires: iOS 8

To know what's new from
the previous releases
CLICK HERE

If you want to know more about how buying works, visit the Buy section of our site