Password Repository
Manage all your passwords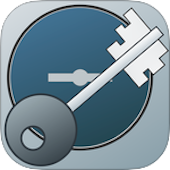 Password Repository is the iOS app to manage all your passwords and all the related data in a safe way on your iOS device. Password Repository it's a document based (full featured as the
desktop counterpart for OS X
) app and allows you to manage an unlimited numbers of documents, any containing how many password records (records + related data) you like.
Password Repository screenshots on iPhone - click image to zoom
Password Repository screenshots on iPad - click image to zoom
It works perfectly both on the iPhone, iPod Touch and on the iPad. On any device it adapts to the screen size using in the best way.
Documents containing your passwords can be exchanged with the desktop version of
Password Repository
using iTunes
Uses colored categories to organize all your passwords. Simple and effective.
Safe and stable. Password Repository uses all the latest Apple technology to manage your data.
Fast to open documents thanks to the native implementation we use for the encryption mechanism
Data protection of all your data inside the document using native Apple Common Crypto AES-256 powerful encryption algorithm
The same device can have multiple documents protected with different passwords for different users
Password Repository 3 is document based. You can manage and move how many documents you like even on iOS.
Use the latest interface enhancement in iOS in terms of aesthetic and usability
Exchange documents with the OS X version for Macs in iTunes.
You copy your documents from/to your Mac and they work.
You can do it in the reverse direction. Password Repository for OS x can work with documents created on iOS.
Documents are totally interchangeable!
We use only Apple native technology to create iOS apps because we love the Apple platform and and we love pure true iOS apps.
Password Repository it's ideal to keep on the same iOS device, different documents for different users. Any user can have her/his own private passwords set protected by a private master password without sharing her/his own data with the other users using the same device.
Password Repository uses colored categories to organize all your passwords. Simple and effective.
To know what's new from the previous releases
CLICK HERE
Password Repository
Rel 1.1 (Sept. 9, 2014) - 1.0 MB
Requires: iOS 7.1 or successive

To know what's new from
the previous releases
CLICK HERE

If you want to know more about how buying works, visit the Buy section of our site