My Public IP
Shows your public IP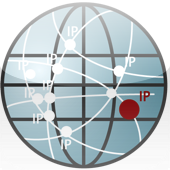 My Public IP is a utility to let you know through which internet IP the world see you.
This is what is usually called your public IP.
This 'Public IP' some time can be static but more often it is assigned by your provider anytime you connect for a new time.
My Public IP screenshots on iPhone - click image to zoom
Obtaining the public IP it is not always easy, specially if you are beyond a modem-router which usually serves many computer using a common IP, in that case My Public IP will let you know the common public IP the router has and that is common to all the computer served by this modem-router.
| | | | | |
| --- | --- | --- | --- | --- |
| | | | | |
| | Fast and easy to use Instant result available at launch | | | Can uses 4 different servers |
| | Instant result available at launch | | | Copy of IP at your touch |
| | IP Refresh at your touch | | | Help always available |
| | Always on thanks to our own custom rendundant server network | | | We use only Apple native technology to create iOS apps because we love the Apple platform and and we love pure true iOS apps. |
Want to know more details about My Public IP?
For general purpose questions about our product can be also useful to visit the
Tension Software Generic FAQ
section.
To know what's new from the previous releases
CLICK HERE
My Public IP
Rel 1.1 (Sept. 12, 2014) - 500 KB
Requires: iOS 7.1 or successive

To know what's new from
the previous releases
CLICK HERE

If you want to know more about how buying works, visit the Buy section of our site