Open-Map
Open-Map brings on iOS many of the open standard maps.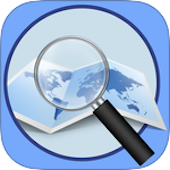 Open-Map covers all the world exactly as other well know proprietary formats but with more then 60 map types of the world with different style, graphic and also data, always up to date, available with 1 click with a resolution level ranging from 0 to 28.
All inside this native Cocoa application optimized for iOS that allows you to scroll, move, zoom in and out to any level you like of any point of the globe.
Open-Map screenshots on iPhone - click image to zoom
Open-Map screenshots on iPad - click image to zoom
Some of the available maps:
Wikimedia
Humanitarian
Black & White
OpenTopo
Hike & Bike
Hydda
Toner
Terrain
Watercolour
Positron
Dark Matter
Flat Blue
Roads
Hybrid
Contour
Grayscale
Street
Topo
Imagery
Shaded Relief
LightGray
NatGeo
Delorme
Ocean
OpenCycle
transport
Landscape
Pioner
Atlas
Outdoor
Satellite
Lyzidiamond
Street Satellite … and many others … and more to be added in the next releases
Shows your position using geo location
Shows position precision circle around you calculated with geo-location
Goto your position at any time in a click
Map of the entire world, fast and reliable
28 levels of zoom
Over 60 map type
We use only Apple native technology to create iOS apps because we love the Apple platform and and we love pure true iOS apps.
Open-Map can also visualize your position and precision range via geo wi-fi and update it over the map if you are moving
Note: Geographic data are served via internet by various servers. To visualize maps and associated data, an internet connection always on is required.
Open-Map is available also for Mac as 'Open Map', look here: Open Map
Want to know more details about Open-Map?
For general purpose questions about our product can be also useful to visit the
Tension Software Generic FAQ
section.
To know what's new from the previous releases
CLICK HERE
Open-Map
Rel 1.0 (July 31, 2018) - 3.0 MB
Requires: iOS 8 or successive

To know what's new from
the previous releases
CLICK HERE

If you want to know more about how buying works, visit the Buy section of our site