Power Cost
Calculate the cost of running any electrical device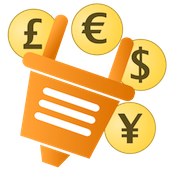 Power Cost let you calculate the cost of running any electrical device. It is a must have application, useful as example when you are in a shop and you are comparing devices to buy and you can easily read the watt usage for each one from their specifications
Power Cost screenshots on iPhone - click image to zoom
Power Cost is for non-technical users willing to calculate costs to running electrical device, it doesn't use power factor or voltage or current intensity, it only requires you enter the power of the device you can read from the label of the device or better using one of these small device letting you read power usage of any electrical device in few seconds without errors.
Power Calc was thought to be as most as easy and simply to use by anyone, no electrical engineering degree required.
Ideal tool to calculate the cost of a device when you are buying it in a shop
Let's you calculate the cost of running your device in a specified period
We use only Apple native technology to create iOS apps because we love the Apple platform and and we love pure true iOS apps.
Power Cost requires to enter:
The watt power of the device
The cost of electric power per KWh (you need to read it once from your electric bill, it may vary a lot for any state or country)
The usage plan (daily, weekly, monthly) as example (6 hours per day) or (2 hours per day twice a week)
The planned hours per day of running
If you run your device on a daily basis or weekly or monthly and in case how many time per week or month
The app will show you the cost per: day, week, 1 month, 2 month, 3 month, 4 month and 1 year
The app uses always your local currency to express costs.
You can insert decimals using the '.' or the ',' the app will recognize both
Result are calculated as you type, no need to press any calc button.
Calculating the total power cost for a device is very easy:
As example for my iMac I will insert:
80 Watt as power
10 hours daily usage
weekly plan with 6 days per week
energy cost of 0,12 (my local currency), I read this value from my electric bill, usually this doesn't change, it depends of your state country and I obtain a monthly cost of 2.47
The app will display costs in $ or € or any other currency you have selected as your local one
Want to know more details about Power Cost?
For general purpose questions about our product can be also useful to visit the
Tension Software Generic FAQ
section.
To know what's new from the previous releases visit the
Power Cost Releases
page.
To know what's new from the previous releases
CLICK HERE
Power Cost
Rel 1.1 (Sept. 17, 2014) - 100 KB
Requires: iOS 7.1

To know what's new from
the previous releases
CLICK HERE

If you want to know more about how buying works, visit the Buy section of our site