Calcline
Simply powerful math calculation for macOS in a small stripe window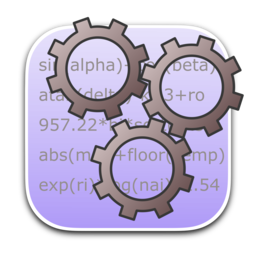 Calcline allows to have a powerful algebra solver in small stripe window taking just a small portion of your Mac screen.
It opens in a flash ready to be used.
Calcline screenshots - click image to zoom
You can use it for simple additions or for complex formula using and assigning variables and constants
Variables and constant can be managed and assigned in a intuitive to use table (in a separate window) with simple clicks
You can even Import and Export name/value from and to text files using a easy and powerful interface!
You can even export to web tables!
Performed calculations can be displayed in a separate log window (content retained over re-launches)
Now with personalizable color and size of window and text.
Calcline offers an array of functionalities to help you work in a fast and effective way
You can work with all the variables and constants in a separate window, creating, deleting assigning them with click and edit
You can also create and assign variables via calcline assignment x=…
You can specify precision display up to 16 decimal positions, work in radians or degree, and have always available a popup to paste (without errors) all the available formulas, and defined variables and constants
You can have the variable and constant values displayed inside the main strip windows
If you need detailed instructions Calcline has a PDF User Guide included (as any application created by Tension Software)
Any performed calculations can be saved inside a log
You can select to show step-by-step calculation or just the result
Log content is retained over re-launch of the application
At any time you can reset it
Variables and constants can be displayed also in a compact form inside the main calc window
Calcline works with your international preferences settings (as example it uses ',' for decimals or '.' depending of your country
You can force at any time the value you like via the preferences
It works also as a service to all the other app you have installed on your Mac!
You just select a math expression in any other app you have and from the service menu (available in any application on macOS) you paste the result!
Uses a custom Tension Software math engine
Can show variables and constant value also inside the small strip window
Optional step by step calc visualisation inside a log window that can retain data over re-launches
Variables and constants manipulation inside a easy to use 'table' interface
Powerfull calculation inside a small strip windows. You still can focus on your activities.
Service menu for all the applications on your Mac with the full power of Calcline available for calculation.
Popup menu with all the variables and constant you created
Math precision up to 16 decimal
Opens in a flash. Native and only for Mac. No all the cross-platform crap you get in many applications
Export of variables and constant in html tables on in pre-assembled complete web pages. All in few clicks. No html coding required.
DEG and RAD for trigonometric calc
You don't need to remember math expressions, a popup menu let you insert them.
Math calculation with any level of nested parenthesis
Import/Export of variables and constant from and to text files in TSV and CSV and custom format
Native Intel 64 bit to take full advantage of the power of the latest Macs
We develop for Mac from a long time. We use only Apple native technology to create macOS apps because we love the Mac and and we love pure true macOS apps
Sandboxed and Gatekeeper signed respecting all the Apple rules for first class macOS apps
Includes a full User Guide in PDF accessible under the Help Menu inside the application.
Optimized for macOS 10.14 (Mojave).
Works perfectly both in Light Appearance and Dark Appearance mode
Using it in an advanced way, Calcline offers mathematical expressions with infinite level of parenthesis to nest expressions and a large selections of math functions as:
square root
cube root
trigonometric sine
trigonometric cosine
trigonometric tangent
trigonometric arcsine
trigonometric arccosine
trigonometric arctangent
hyperbolic sine
hyperbolic cosine
hyperbolic tangent
hyperbolic arcsine
hyperbolic arccosine
hyperbolic arctangent
natural logarithm
base 10 logarithm
exponent base e
exponent base 2
exponent base 10
absolute
ceil
floor
factorial computation
random numbers
Calcline is fully compatible and optimized for macOS 10.10, macOS 10.11, macOS 10.12 Sierra, macOS 10.13 High Sierra and macOS 10.14 Mojave
Under macOS 10.14 Mojave works perfectly also in Dark Appearance Mode
FULL PURCHASE


Buy a new License

All Upgrades are free for same major release.




If you want to know more about how buying works, visit the Buy section of our site