Counter
Counter allows to count a discrete number of elements using the help of your Mac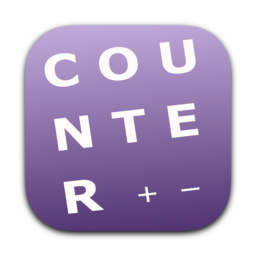 Counter does one thing and only one thing in the best possible way. It allows to count a discrete number of elements using the help of your Mac to avoid any error, when having the right result is mandatory and your fingers are not enough.
Counter screenshots - click image to zoom
Using Counter you can solve any kind of situation where you have to computer enumerate a total number of elements (physical of abstract) and you want to be sure the process will be error free.
You can add to the total a new unit simply pressing the "+" on your keyboard to count it. Counter will keep track of the counting as it progress and will add +1 to the total at any "+" key press from the keyboard or pressing the "+" button in the counter window.
Native Intel 64 bit to take full advantage of the power of the latest Macs
We develop for Mac from a long time. We use only Apple native technology to create macOS apps because we love the Mac and and we love pure true macOS apps
Sandboxed and Gatekeeper signed respecting all the Apple rules for first class macOS apps
Includes a full User Guide in PDF accessible under the Help Menu inside the application.
Optimized for macOS 10.14 (Mojave).
Works perfectly both in Light Appearance and Dark Appearance mode
You can optionally set to have Counter to ask confirmation for any element you add, and it gives you the possibility to have also a 'minus' button, to subtract also elements in case you need it too.
You can also have a sound feedback to be sure the value was added (or subtracted)
Counter displays the totals in clear big size font
Optional minus button (to decrease the counter)
Optional confirmation request of any add and subtract or reset operation
It can give you also an audio feedback for any unit you add (so you are sure you accomplished the addition when you want to do it).
It provides preferences to personalize your settings.
It keep the value counted over relaunch until you decide to reset it.
It allow to disable the autorepeat function of the "+" and "-" key to avoid mistakes
It gives you confidence you didn't make mistakes in counting any kind of discrete elements (specially when counting them exactly is mandatory).
Optimized to work also in Dark Mode
Counter has also an iOS version .Look under the iPhone list to see it
FULL PURCHASE


Buy a new License

All Upgrades are free for same major release.




If you want to know more about how buying works, visit the Buy section of our site