Counter
Counter allows to count a discrete number of elements using the help of your Mac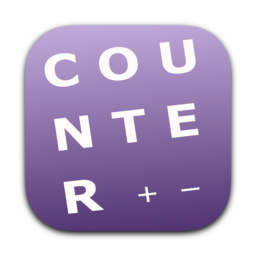 Counter does one thing and only one thing in the best possible way.
It allows to count a discrete number of elements using the help of your Mac to avoid any error, when having the right result is mandatory and your fingers are not enough.
Using Counter you can solve any kind of situation where you have to computer enumerate a total number of elements (physical of abstract) and you want to be sure the process will be error free.
You can add to the total a new unit simply pressing the space bar on your Mac to count it.
Counter will keep track of the counting as it progress and will add +1 to the total at any space bar press.

Counter screenshots - click image to zoom
You can optionally set to have Counter to ask confirmation for any element you add, and it gives you the possibility to have also a 'minus' button, to subtract also elements in case you need it too.
You can also have a sound feedback to be sure the value was added (or subtracted)
There is also a iOS version at
Counter for iOS
Native Intel 64 bit to take full advantage of the power of the latest Macs
We develop for Mac from a long time. We use only Apple native technology to create OS X apps because we love the Mac and and we love pure true OS X apps
Sandboxed and Gatekeeper signed respecting all the Apple rules for first class OS X apps
Includes a full User Guide in PDF accessible under the Help Menu inside the application.
Optimized for OS X 10.11 El Capitan
If you want to know more about how buying works, visit the Buy section of our site