Cryptoedit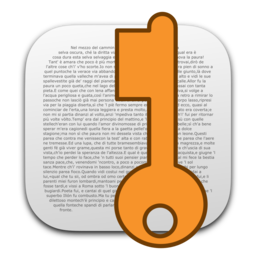 CryptoEdit is an advanced Rich Text Format (also with Images) editor, that saves documents on disk encrypted and protected by a password
Documents are saved on disk always encrypted and protected, there is no way to save the document in plain format, this to avoid to save (even as a mistake) reserved data in a plain format anyone can read. If it was saved with CryptoEdit, it is secure by default. Only a person knowing the password used to save a CryptoEdit document, will be able to open and read it.
Cryptoedit screenshots - click image to zoom
CryptoEdit uses the strong Blowfish encryption algorithm to encrypt and decrypt data on the fly without any appreciable delay in opening and saving documents.
CryptoEdit is easy to use because i'is similar to other word processor available on the Mac, plus adding default encryption on anything saved on disk.
The text can be formatted using rules, different font,style, size, color. All the usual manipulations of fonts are available via menu and dialogs and custom styles are also available.
Full featured editor with :
Check spelling in any language.
Full implemented text search.
Insertion of images inside the document with just drag and drop.
Import from other documents in standard TEXT or RTF or RTFD (RTF + images) .
Documents can also be exported as TEXT, RTF or standard RTFD (included images)

Always saves encrypted with a super fast Blowfish algorithm
Easy and effective, you will be productive from the first seconds of use
We develop for Mac from a long time. We use only Apple native technology to create OS X apps because we love the Mac and and we love pure true OS X apps
Includes a full User Guide in PDF accessible under the Help Menu inside the application.
You are downloading a secure app digitally signed with the Apple certificate released to: TENSION SOFTWARE SAS Cryptoedit
Rel 1.6.3 (March 29, 2012) - 1.4 MB
Requires:
Cryptoedit
Cryptoedit



FULL PURCHASE


Buy a new License for the latest release

All Upgrades are free.







FULL PURCHASE


Buy a new License for the latest release

All Upgrades are free.




If you want to know more about how buying works, visit the Buy section of our site