CryptoEdit
The encrypt visual editor for Mac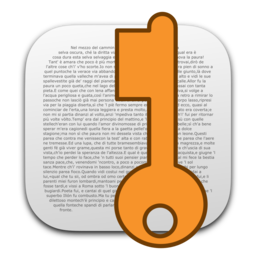 CrytoEdit is an absolutely simple, powerful, and secure application to create and edit documents that are encrypted by default. It handles TEXT, RTF, and RTFD (RTF with images) files.
All files are saved encrypted.
It is the ideal solution for managing private documents in plain text and RTF.
CryptoEdit screenshots - click image to zoom
CryptoEdit allows you to edit documents with a simple word processor. It can handle text and images. All the features available in a modern, Cocoa-based RTF editor are available in CryptoEdit.
Text may be formatted using rulers, styles, and fonts of different sizes and colors. All font selections are available from standard menu dialogs and custom styles may be used.
CryptoEdit performs spell-checking in your native language and includes full text search. Insertion of images may be done with simple drag-and-drop.
CryptoEdit can import existing documents and export in standard TEXT, RTF, and RTFD. CryptoEdit documents are always saved encrypted for security. If it was saved, it was encrypted!
Saving a document with images (RTFD) creates a single file with all text and images encrypted.

Always saves content encrypted. You are always safe because it can't save in plain text. No way to create documents that anyone can read.
Easy and effective, you will be productive from the first seconds of use
Accepts drag and drop to insert images
Import from files on disk in standard TEXT or RTF or RTFD (RTF + images) .
Documents can also be exported as TEXT, RTF or standard RTFD (included images) in plain format

Super-protected content. CryptoEdit uses a strong AES-256 algorithm.
Full-featured editor with spell-check in any language
Fully implemented search
Insertion of images via drag-and-drop.
Unbelievably fast. It decrypts and opens super-secure AES-256 files as if they were plain text.
We've been making Macintosh encryption software since 2005.
Native Intel 64 bit to take full advantage of the power of the latest Macs
We develop for Mac from a long time. We use only Apple native technology to create macOS apps because we love the Mac and and we love pure true macOS apps
Sandboxed and Gatekeeper signed respecting all the Apple rules for first class macOS apps
Includes a full User Guide in PDF accessible under the Help Menu inside the application.
Uses Resume, Auto Save, Versions, and Full Screen.
If you quit, on relaunch you will be returned to the same state. There's no need to save, the application does it for you. Always.
You can use the Versions feature from macOS to return to an earlier version of your work.
Full screen natively supported.
Optimized for macOS 10.14 (Mojave).
Works perfectly both in Light Appearance and Dark Appearance mode
CryptoEdit is ideal for protecting important or private data on any Mac. If someone gains unauthorized access to your Mac (or worse: it is stolen), the only way to be sure your data won't be in the wrong hands is via encryption.
CryptoEdit gives any Mac user sophisticated encryption in a simple and easy way. In fact, CryptoEdit is so simple to use that, except for requiring a password to open a document, the user can ignore encryption issues and treat it as a normal editor.

You are downloading a secure app digitally signed with an Apple certificate (all our new releases are also Notarized by Apple for your maximum safety) CryptoEdit
Rel 2.3 (Dec. 12, 2018) - 5.5 MB
Requires: macOS 10.10 Yosemite or successive
CryptoEdit
CryptoEdit
To know what's new from the previous releases CLICK HERE



FULL PURCHASE


Buy a new License for the latest release

All Upgrades are free for same major release.




FULL PURCHASE


Buy a new License

All Upgrades are free for same major release.




If you want to know more about how buying works, visit the Buy section of our site