Data Creator
The advanced dataset creator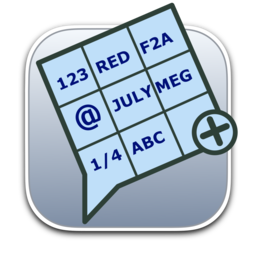 Data Creator can create sample tables (rows and columns) as you like and fill them with pseudo-random proper content (rows of content) with a single click. You can select which kind of fields (columns) you like (name of animals, colors, fruits, english surname, german names and so on with over 50 different kind of data) and have all the contents filled for how many rows you like in a click. It can export to Comma separated value, Tab separated values, html tables, even web pages ready to click or in any custom format you like. Data creator is a must have for any power user or developer working with database or web pages when in need of neutral realistic data for prototyping or test purpose.
Data Creator screenshots - click image to zoom
Data Creator can be used to create small or very large data sets (thousands and thousands of records) for fast prototyping or stress test of structures and scripts.
Using Data Creator you can now perform serious demo and software test using realistic data and not just repetitive unrealistic text fields created with copy and paste. Data Creator can be used any time you need to produce massive, heterogeneous, realistic data for any development, or test or demo purpose.
It's document based.
Inside a document the full structure of what you have created is preserved.
You can have how many document you want to have different data set for different jobs.
It's so fast you will be impressed. It does it all in memory. It creates thousands of records for multicolumn table in a flash.
Great export flexibility.
Can export in TSV format (Tab separated values), CSV format (Comma separated values), HTML Table, web page with web table inside ready to be opened in browser or even in a custom format the user can specify in great details.
Very specific fields to create the data you need. It not only picks data from large list (surname for specific geographical region, fruits, wines, and so on) but calculates other value (dates in specified range with custom format, serial number, random hexadecimal, numbers in specific range, alphanumeric strings of the length you like). Data Creator is the number one in creating data set filled with realistic data.
Creates realistic data (over 50 different types) from very large internal data sources including names and surnames with various country origin (USA, Germany, France, Italy, Spain) and many more types (emails,colors, animals, cheese, name street by country and so on..)
Creation and definition of new columns (fields) at any time.
Can add and delete records as you like.
Can rename fields and change alignment.
Can assign different kind anytime you like to the same field, content is upgraded as you apply a change.
You can refresh and recreate all the data inside in a single click.
Fine tuning for any fields.
Can use an optional prefix and suffix for any field. For random data filled fields you can specify the length or the length range.
For number fields you can specify a number range. For date you can specify a data range and decide in details using a formatting string what and how to output: years, monte, days, hours , minutes, seconds.
Productive from the first minutes.
Data Creator is so simple to use there is no learning curve.
You launch it and Insert the fields with the type you need and click to create how many data records (rows) you need.
Done.
Native Intel 64 bit to take full advantage of the power of the latest Macs
We develop for Mac from a long time. We use only Apple native technology to create macOS apps because we love the Mac and and we love pure true macOS apps
Sandboxed and Gatekeeper signed respecting all the Apple rules for first class macOS apps
Includes a full User Guide in PDF accessible under the Help Menu inside the application.
Uses Resume, Auto Save, Versions, and Full Screen.
If you quit, on relaunch you will be returned to the same state. There's no need to save, the application does it for you. Always.
You can use the Versions feature from macOS to return to an earlier version of your work.
Full screen natively supported.
Optimized for macOS 10.14 (Mojave).
Works perfectly both in Light Appearance and Dark Appearance mode
Data Creator is simple to use and powerful, with over 50 different types of data to insert in custom created data tables.
Created data can be heterogeneous, various and absolutely realistic, thanks to a large internal database of data to create dataset that looks true during demonstration and usage test. It uses an intuitive macOS interface any Mac user is able to use from the first launch.
It's fast to create data, in a click it can create thousands and thousand rows of data
It's fast to let you see and change data thanks to a latest generation interface
It's fast to let you use data, it uses a state of the art export interface with great features. It let you select in which format to export. It can even export in ready to use web pages in html format
One of the greatest feature of Data Creator is the Custom export that let you specify in great details the format to use to export.
You can specify code to embed at the start and at the end of the file, at the start and end of any record, before and after any field and the tag to use as field separator.
You can specify if to use or not the name of the field as first row and other details

Data Creator is the most powerful data set creator. Try it!
You can download from here, directly from our servers the latest release
You are downloading a secure app digitally signed with an Apple certificate (all our new releases are also Notarized by Apple for your maximum safety) Data Creator
Rel 1.7 (Dec. 19, 2018) - 3.5 MB
Requires: macOS 10.10 Yosemite or successive
Data Creator
Data Creator
To know what's new from the previous releases CLICK HERE
If you like you can get it directly from the App Store or get a license from one of our resellers.
Please note that the latest release may appear on the App Store with some days of delay due to Apple approval process.



FULL PURCHASE


Buy a new License for the latest release

All Upgrades are free for same major release.




FULL PURCHASE


Buy a new License

All Upgrades are free for same major release.




If you want to know more about how buying works, visit the Buy section of our site