DB-Text
The text database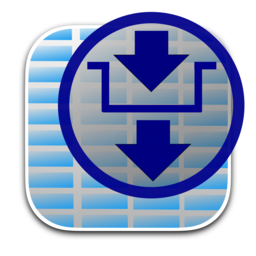 DB-Text is a general use tool to open and edit data in text format.
DB-Text is able to open import, edit and manage text data organized by rows and columns in a more practical and effective way then text editors.
DB-Text can import data both in CSV (comma separated value) text format or in TSV (tab separated value) text format coming from Windows, Unix and macOS.
It can automatically recognize the used format analyzing the content inside.
It can accept data with mixed use of quotas

DB-Text screenshots - click image to zoom
Data can be manipulated and exported as text (as CSV, TSV, html or custom format selecting separators and other tags) or saved inside a native DB-Text document
DB-Text is a must have for any user that manipulates text files with data organized by rows and columns. It can enlarge or shrink all the columns in a single step from the toolbar
It allows to save a lot of time doing in a proper way text data manipulation with a tool designed for the purpose with features a text editor can't match.

Drag and Drop Import. To import simply drop a file on any documents from the finder.
Move key fields and associated columns. A table can be organized as you like with data columns with the order you need.
Import from CSV and TSV automatically recognizing the format, just selecting the file. Let you select where to import (existing column or new one). Data browsing of data before importing
Can import more then one time inside the same document. Can manipulate and edit data in place
Sort and filter as-you-type inside the table
Assign at any time the content of a row as column header. Add and delete rows or column at any time. Change data organization at any time
Export dialog that let you select from which fields to export and in which order. Total customization with few clicks using an intuitive and very Mac like interface.
Copy in CSV (comma separated),TSV (tab separated) or HTML format of selected rows in the clipboard, with a click.
Native Intel 64 bit to take full advantage of the power of the latest Macs
We develop for Mac from a long time. We use only Apple native technology to create macOS apps because we love the Mac and and we love pure true macOS apps
Sandboxed and Gatekeeper signed respecting all the Apple rules for first class macOS apps
Includes a full User Guide in PDF accessible under the Help Menu inside the application.
Uses Resume, Auto Save, Versions, and Full Screen.
If you quit, on relaunch you will be returned to the same state. There's no need to save, the application does it for you. Always.
You can use the Versions feature from macOS to return to an earlier version of your work.
Full screen natively supported.
Optimized for macOS 10.14 (Mojave).
Works perfectly both in Light Appearance and Dark Appearance mode
Still using your text editor to manage your data file in text format?
We encourage you to try DB-Text.
You can download an unlicensed limited version from here and buy later a license from one of our distributor or buy directly from the App Store.

You are downloading a secure app digitally signed with an Apple certificate (all our new releases are also Notarized by Apple for your maximum safety) DB-Text
Rel 1.9 (Dec. 18, 2018) - 4.1 MB
Requires: macOS 10.10 Yosemite or successive
DB-Text
DB-Text
To know what's new from the previous releases CLICK HERE



FULL PURCHASE


Buy a new License for the latest release

All Upgrades are free for same major release.




FULL PURCHASE


Buy a new License

All Upgrades are free for same major release.




If you want to know more about how buying works, visit the Buy section of our site