Easy Markdown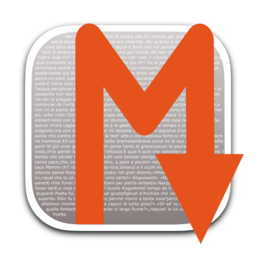 Easy Markdown lets the user create web pages writing simple text using the Markdown rules to create readable well formatted text.
A text written in Markdown is a simply text which looks correctly to humans as text and automatically translates in a correct web page. Using the markdown rules you create nice formatted text and automatically have good looking web pages.
Easy Markdown screenshots - click image to zoom
A lot of people and company already use this standard extensively because it is simply to master. Anyone can use it! The Easy Markdown App was realized to make all this more easy then ever
The text written on the left (in normal text) becomes automatically a web page on the right of the window as-you-type. You immediately see the result and how it changes at any single keystroke.
Easy Markdown offers additional helps to create correctly formatted text page in accordance with markdown rules The app recognizes any 'start of line' markdown code inserted at any row and show it in the toolbar allowing to change it with a click (no coding required)
The user can create correctly formatted markdown text without remembering the markdown rules thanks to the help from the app
At any time the user can see live the web page as it is generated and modified plus, if requested, also the html auto-generated code
At any time the user can copy the resulting html code (to use it in other places or app)
At any time the user can copy in addition also the RTF text to use it in other apps
A custom CSS (Custom Style Sheet) can be used for the web page instant visualization and the used CSS it can changed at any time via e popup menu. You can use the CSS we have available for download and you can use also your own you can create.
The Snippets manager allows you to create repetitive text to be pasted in any documents with a click from the snippets popup.

Can show both text, web and html code in collapsable split views.
Shows the text and the auto generated web page as-you-type
Enhanced editor with line numbers
Can copy the text, the html and an RTF version with a single click
Smooth web update as-you-type. You will be amazed by it.
Variable font size for editor, html view and web view.
Instant change of CSS in use and update of the web page to reflect it. Custom CSS allowed
Snippets manager to manage portion of ripetitive text, available to paste in any documents.
Native Intel 64 bit to take full advantage of the power of the latest Macs
We develop for Mac from a long time. We use only Apple native technology to create OS X apps because we love the Mac and and we love pure true OS X apps
Sandboxed and Gatekeeper signed respecting all the Apple rules for first class OS X apps
Optimized for OS X 10.9 Mavericks
Includes a full User Guide in PDF accessible under the Help Menu inside the application.
We see many web sites requiring submission of text in markdown format, using Easy Markdown you can manage all your works in a perfect and effective way.
When you have to submit html code on web form, Easy Markdown can be used both to create small portion of html code to paste them online.
It can be used for web pages you are working locally on your Mac, or also to create extended pages for complex work.

Markdown is becoming a standard format per-se due to it's flexibility. It's a fantastic way to display correctly data both as text and as web pages without the need to manually change a single char, Easy markdown offers the possibility to use markdown in a fast and profitable way almost to anyone.
If you want to know more about how buying works, visit the Buy section of our site