Mac MACSpoof
Change MAC address of network interfaces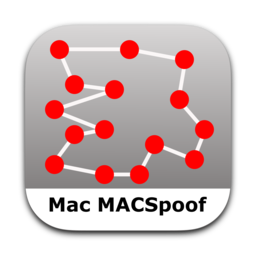 Mac MACSpoof is a Mac utility that allows the user to change the MAC address of the network interfaces of your Mac (Ethernet, Wi-Fi and so on) with any custom value.
Mac MACSpoof screenshots - click image to zoom
The utility display a list of all the network interfaces of the Mac and selecting one the user is able to assign the value from one created at the moment or using a list of pre-defined values reusable over time.
The application display always, near the spoofed value also the original hardware written MAC address. At any time the application is able in a single command to revert all network values to the original one.
The application uses XPC Apple technology for a safe escalation privilege to change the requested Mac address and is Apple Developer signed and Gatekeeper enabled.
Mac MACSpoof includes a PDF User guide

Native Intel 64 bit to take full advantage of the power of the latest Macs
Gatekeeper signed respecting all the Apple rules for first class macOS apps
Optimized for OS X 10.11 El Capitan
We use only Apple native technology to create iOS apps because we love the Apple platform and and we love pure true iOS apps.
Includes a full User Guide in PDF accessible under the Help Menu inside the application.
You are downloading a secure app digitally signed with the Apple certificate released to: TENSION SOFTWARE SAS Mac MACSpoof
Rel 1.0 (May 18, 2016) - 1.4 MB
Requires: OS X 10.10 Yosemite or successive
Mac MACSpoof
Mac MACSpoof



FULL PURCHASE


Buy a new License for the latest release

All Upgrades are free.




If you want to know more about how buying works, visit the Buy section of our site