My IP
Shows your public IP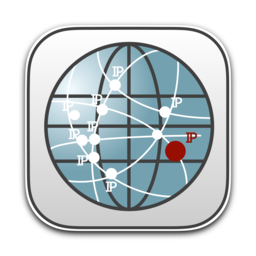 My IP is a utility app to see with which public IP address you are connected to the net (different from your IP address inside your LAN). Public IP is the IP address you use to connect to the global net, the address the rest of the world see you at.
My IP screenshots - click image to zoom
My IP can monitor your true public IP and report it on a log on disk, always or only when it changes over the previous value.
It can even remember values over the previous runs. You can use My IP also when in background thanks to its optional presence in the status ber menu, always showing the current public IP in use.
The public IP address sometime can be static (always the same), sometime dynamic (changed by the internet provider over time at any connection). Obtaining the IP value of your connection sometime it's not easy, particularly if you are behind a modem router. In the case you are using a modem router, using normal system utilities, your IP address will be indicated as equal to your LAN (Local Area Network) IP address, with is really just your address inside your local network, totally different form your true external public IP address on internet. Your LAN IP address has no value outside your local area network!
Can use 4 different servers to calculate your public IP
Instant result available at launch
Useful to know your public IP address behind a modem router with a shared IP
Able to show your public IP where usually system utility fails showing just your LAN IP
Can log your ip at regular time interval or only when it changes. Log can be saved on disk and maintained over relaunch
works also when in background showing the IP in the menu bar and you can copy the IP from within other applications.
Native Intel 64 bit to take full advantage of the power of the latest Macs
We develop for Mac from a long time. We use only Apple native technology to create macOS apps because we love the Mac and and we love pure true macOS apps
Sandboxed and Gatekeeper signed respecting all the Apple rules for first class macOS apps
Includes a full User Guide in PDF accessible under the Help Menu inside the application.
Uses Resume, Auto Save, Versions, and Full Screen.
If you quit, on relaunch you will be returned to the same state. There's no need to save, the application does it for you. Always.
You can use the Versions feature from macOS to return to an earlier version of your work.
Full screen natively supported.
Optimized for macOS 10.14 (Mojave).
Works perfectly both in Light Appearance and Dark Appearance mode
My IP works instead indicating always your true internet IP address, the one the world can see you at, detecting the IP address your modem router uses to connect with the rest of the world, with is the address the rest of the world identify you and can use to connect to you. Know your true public IP address is mandatory in many situation where you have to specify, specially for external use, at which address you are and can be reached by servers or desktops outside of your LAN. My IP offers a simple and intuitive interface, a fast use and the option to work with 4 different servers to show your public IP address. It's enough to run my IP to have your public IP address displayed.
My IP is available only at the App Store
FULL PURCHASE


Buy a new License

All Upgrades are free for same major release.




If you want to know more about how buying works, visit the Buy section of our site