String Replacer
Multistring multifile replacement in one click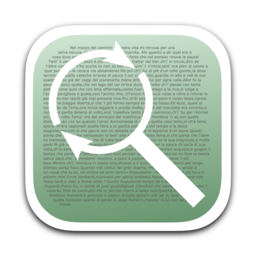 String Replacer allows to find and replace a list of strings inside files and folders on your Mac directly or in batch mode.
It allows to operate on multiple files using a multiple string couple replacement list.
It works with just a single click or using drag and drop.
String Replacer screenshots - click image to zoom
String Replacer can replace strings inside any text files (text, htm, html, tsv, csv and any other file that can be opened as a text file)
It can replace in a single pass an unlimited number of strings with other strings, and parsing one or more file from a list of files and folder content (including all the files nested inside folders at any nested level)
String Replacer is document based to offer the advantage to save all the settings, the list of files and folder to precess and list of string to replace, inside the document and to have all this data ready to be used again for reuse opening the document and executing the replacing operation in batch mode, just clicking a button.
String replacer can work also on files and folder (with nested contents) via Drag and Drop.
Works also in Instant Processing mode via drag and drop.
It's enough to drop a file or a folder on the 'Instant Replacement' area to have it instantly processed using the document settings.
Document based can specify a base sources on disk to work on and use it at successive relaunch of the document without further input
Works also in batch mode, replacing on an unlimited number of files (specified in the source area) with a single click. All the batch settings are saved inside the document and can be repeated over time.
Can replaces strings on an unlimited number of selected files and files inside folders at any nested levels
Can specify for folders, extension of files to work on (skipping the others)

Uses a log to report all the file processed and how many replacements in each one. Can provide list of file to process and string to replace in advance.
Can accept files and folders to process for replacement also via drag and drop. Just drag them from the finder over the Sources list in the document and you have done!
Can use an unlimited list of strings to find and replace. It can use also the empty string as replacement. It can use grep and 'match case' to replace
Full Import/Export of string couples used for Find/Replace
Native Intel 64 bit to take full advantage of the power of the latest Macs
We develop for Mac from a long time. We use only Apple native technology to create macOS apps because we love the Mac and and we love pure true macOS apps
Sandboxed and Gatekeeper signed respecting all the Apple rules for first class macOS apps
Includes a full User Guide in PDF accessible under the Help Menu inside the application.
Optimized for macOS 10.14 (Mojave).
Works perfectly both in Light Appearance and Dark Appearance mode
You just need to drop a file or a folder on the dedicated area of a target document and the dropped file (or all the files inside the dropped folder) will be processed and string replaced as specified inside the target document.
Strings used for Find/Replace can be imported/exported from/to text files in various format
FULL PURCHASE


Buy a new License

All Upgrades are free for same major release.




If you want to know more about how buying works, visit the Buy section of our site