To Text Converter
Convert RTF, RTFD, PDF, HTML to text file on your Mac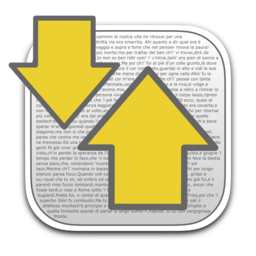 To Text Converter can convert files from various formats (PDF, HTML, RTF, RTFD) to standard plain TEXT
It works with a simple drag and drop of files to its window.
To Text Converter screenshots - click image to zoom
It can accept and instantly convert to plain text:
PDF documents from any platform (.pdf files)
Web pages (.html and .htm files)
Rich text Format documents ( .rtf files)
Rich Text Format with embedded graphics documents ( .rtfd files)

To Text Converter works creating new text files near the original files or inside a selected folder as specified in the preferences (original file are untouched)
The newly created files will contain, in text format, the perfectly readable textual content of the original files
The original files will be always left untouched to never damage your previous work.

Works on PDF, RTF, RTFD, HTM, HTML
Convert also more then one file per time, Just drag a group of files and it will process all them.
Can save results in a custom folder or near the originals
It's safe. It never touches or modifies the original files.
Works using Drag and Drop.
Easy to use, no learning curve at all. Anyone can use it from the start.

It uses a log to register any processed file.
Log is retained over runs and can be reset when you like.
Native Intel 64 bit to take full advantage of the power of the latest Macs
We develop for Mac from a long time. We use only Apple native technology to create macOS apps because we love the Mac and and we love pure true macOS apps
Sandboxed and Gatekeeper signed respecting all the Apple rules for first class macOS apps
Includes a full User Guide in PDF accessible under the Help Menu inside the application.
Optimized for macOS 10.14 (Mojave).
Works perfectly both in Light Appearance and Dark Appearance mode
Useful to extract text, cleaning it from format text and various language code, in case of web pages, PDF, RTF and RTFD files.
Obtained text, can be used for any purpose because it is always 'clean' with no code inside and ready to use in any other application.
It can be used as pre-processor for applications such as Data Extractor to extract data from PDF and insert them in database.

It can process many files at once, dropping them on the 'To Text Converter' main window in a single step, in that case it will save more files each with the relative text inside.
It always shows in the window path to the converted and created files.
It is able to show in the finder pressing a button, both the last processed file and the converted one for an easy reference to the used files inside the application.
It is fast and written using the latest generation algorithms and can convert and save thousands of files in few seconds.

You are downloading a secure app digitally signed with an Apple certificate (all our new releases are also Notarized by Apple for your maximum safety) To Text Converter
Rel 1.5 (Dec. 17, 2018) - 1.2 MB
Requires: macOS 10.10 or successive
To Text Converter
To Text Converter
To know what's new from the previous releases CLICK HERE



FULL PURCHASE


Buy a new License for the latest release

All Upgrades are free for same major release.




FULL PURCHASE


Buy a new License

All Upgrades are free for same major release.




If you want to know more about how buying works, visit the Buy section of our site